Op blogpost "mini Action haul" heb Ik 1 setje nagellak :makeup: met 6 kleuren van MAX gekocht.
Ik kan niet wachten om met jullie te delen en dus vandaag ga Ik swatches van die nagellak updaten.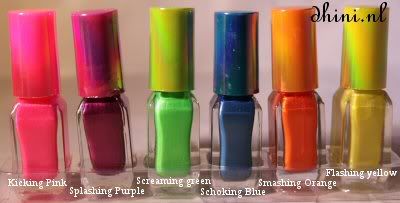 Base coat van Hema en Top coats van Konad


De pink is maar een laagje. De rest 2 keer gedaan. Ik vind de Pink en de Orange (na 2 laagjes) zijn goed dekking. De gele heb Ik niet op foto want het is lastig om foto te maken met een rechte hand. :sorry:
Verder wil Ik over MAX nepwimpers vertellen wat Ik vind over ze. Eerlijk gezegd gebruik Ik nooit nepwinpers en dit is dus de eerste keer om te proberen. Helaas kan Ik niet op my doen. Hij plakt gewoon niet het kan aan mij liggen of aan de lijm, dat ik niet goed kan opbrengen. Heb een of 3 keer geprobeer, plakt ze niet..helaas dus. De nepwimpers zelf vind Ik te stijf.
Zo vandaag heb Ik 2 blogposten geplaats 😀
Fijne maandag..Liefs!