Gisterenmiddag voordat Ik naar wek ging, ringde de deurbel. Ik zag buiten bekende auto van postbode en aaridge jonge man gaf een pakketje voor mij van tickledpinkscentsations :inluv: Ik wilde gelijk de pakketje openen en hoorde Ik weer de deurbel schreuwde. Ik denk dat de postbode weer en ja hoor! Hij vroeg me af of Ik een pakketje voor buurvrouw wilde ontvangen. Geen probleem!
Ik bestelde deze mini mister in de sale : 3 "Mini Mister EDP 1 oz Body Spray *Budget Busters* van $5.00 voor maar $0.99" en 6 "Mini Mister EDP 1 oz Body Spray-Clearance van $6.00 voor maar $1.99" en 1 Dream Whip Soy Souffle 2 oz Bovendien kon Ik nog code coupon twitterfun gebruiken t.w.v. 5$ :dance: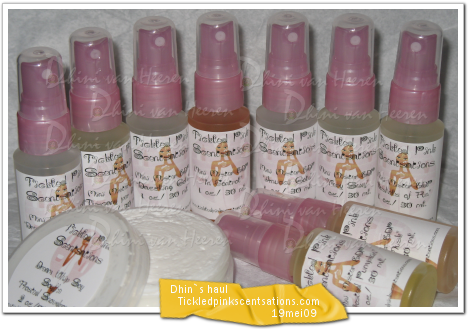 V.l.n.r. Dream Angels Divine, Tiscaney per Donna, Dazzling Gold, In Control, Anucci gold, Very Sexy, Bushels of Fun. Voor v.l.n.r. Dream Soy Souffle Frosted Snowdrop, Frosted Punpkind en Honey musk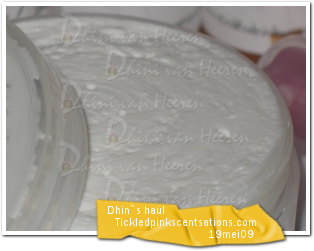 Dream Soy souffle Frosted snowdrop
Ik ruik weer lekker met alle deze geuren, maar Ik vind de honey musk Frosted Punpkind minder lekker (voor mij persoonlijk). De rest is lekker.
Liefs,