De nieuwe modetrend "Verenoorbellen". Hier zijn al veel sterren gezien met de sieraden gemaakt van veren. Onder andere Miley Cyrus, Vanessa Hudgens, Nicole Scherzinger, Ke$ha en Selena Gomez. En nu is er de Nederlandse webwinkel Your Feather Fashion met heel veel soorten verenoorbellen. Yolanda de eigenaresse maakt deze allemaal zelf met de hand. WooW Knap! echt leuk! Ik heb er een paar en vind het super mooi. Kijk voor meer informatie en foto`s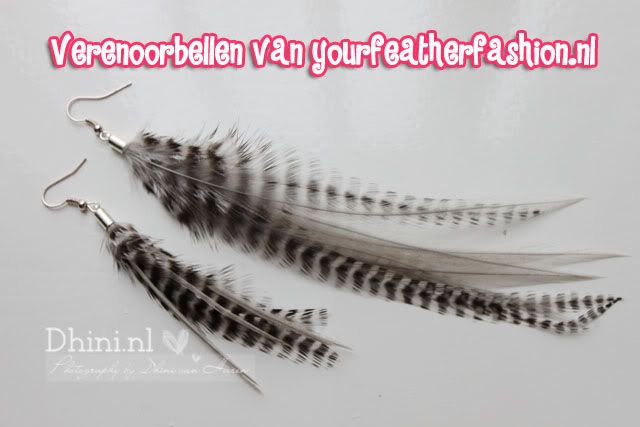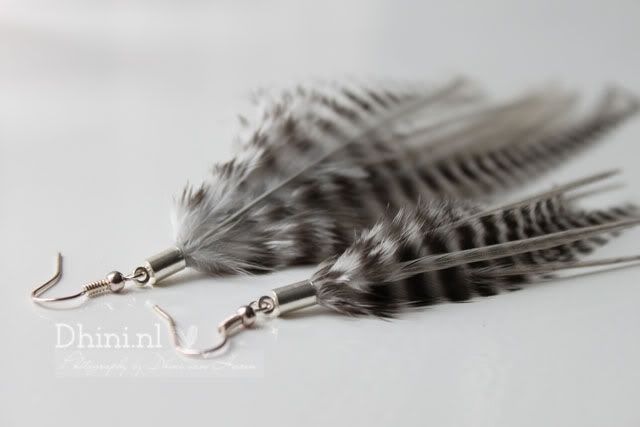 De oorbellen die ik heb in twee soorten lengte..eentje is langer dan de andere oorbel. Ik vind het apart natuurlijk maar heel erg leuk en wat echt mooie oorbellen die met de hand gemaakt worden.
De oorbellen die ik heb kosten €15.95 per paar.

Via email kan je bij Your Feather Fashion bestellen en binnen 24 uur een reactie krijgt voor de betaalgegevens etc. Of telefonisch kan dit ook natuurlijk. Het is netjes verpakt in een bubbelenvelop. Als de betaling ontvangen is zal het product binnen 4 werkdagen bij u thuis zijn. Er kunnen ook sieraden besteld worden die ontworpen zijn door de klant
Het bedrijf verzorgt ook sieradenparty's door heel Nederland en Yolanda staat ook op verschillende evenementen en je kan Your Feather Fashion via Facebook en Twitter volgen.
Your Feather Fashion is een hele leuke webshop, Niet alleen vernoorbellen, armbandje, kettingen en andere accessoires te koop en dus heel erg leuk om eens jezelf te verwennen of voor een cadeautje voor je vriendin of zusje!
Tip : Het is leuk voor onder kerstboom of nieuw jaar cadeau! Zeker weten! :yes: