Vroeger deed ik regelmatig de layout veranderen maar de laatste tijd heb ik geen inspiratie en geen genoeg tijd voor. De laatste layout ben ik erg blij mee maar ik ben zat dus tijd voor fris layout. Eigenlijk wil ik precies op 1 januari een nieuw layout gebruiken maar ik zat niet achter PC. En bovendien ben ik nog steeds bezig hier en daar wat aanpassen maar het is niet zo makkelijk. Toch vandaag ga ik nieuw layout echt gebruiken.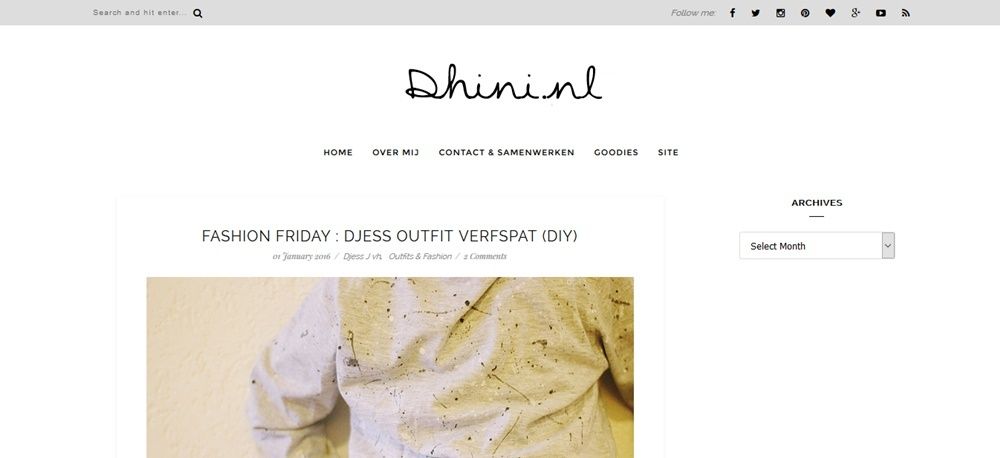 Ik heb deze layout vorige jaar al gekocht op Etsy MaiLoveParis. De naam van de theme is BLUEBIRD. De origineel is anders dan die ik nu gebruik want ik heb hier en daar aangepast.
– De kleur heb ik eenvoudig zwart/grijs en wit en voor de link heb ik roze kleurtje.
– Menu vind je onder de titel (origineel is dropdown menu maar bij mij werkt het niet, geen idee waarom) en ook boven op de rechte kant en daar zoekvakje
– Boven linkerkant vind je de sociaal media icoon
– Een sidebaar met daarin Archive, Categories, Instagram slider, Advententie/affliate, Banner(s)
– Footer vind je Instagram slider, Banner en ook sociaal media icoon en to the top pijltje als je naar boven snel wilt scrollen.
Wat veranderd/toegevoegd
Ik heb de next – preview zelf de code toegevoegd boven de comment want ik vind het zo handig als ik naar de volgende of vorige blogpost wil kijken. Ook veranderd ik de next – preview met cijfers (hier gebruik ik nav.pluggin en de code veranderd). Ik ben blij met deze layout alleen er is wat ik minder leuk is dat de comment in de oude blogpost niet kan zien/lezen 🙁 (bijvoorbeeld – comment in blogpost 2010). Ok…misschien kijkt/leest niemand meer naar oude artikels maar toch vind ik het leuk om de comment terug te lezen. Ik heb gegoogeld maar nergens vinden hoe ik kan veranderen. Ik heb naar de webdesign gevraagd maar helaas kan ze mijn nog niet helpen.
Er komen nieuw artikel zoals Fashion Friday die vorige maand al begonnen (hopelijk kan ik elke vrijdag fashion/mode artikel verschijnen in vorm van outfit of fashion/mode items). Mani manicure wil ik elke maandag plaatsen. Ook graag wil ik eigenlijk vlog en of vijf of …
Wat vinden jullie met mijn nieuw layout?
Zien jullie rare dingen, laat maar weten zodat ik snel kan aanpassen.

Fijne dag en geniet ervan!
Dhini