Say bye bye to old layout/theme. Eigenlijk wil ik op 1 jan 2016 nieuw layout gebruiken maar ik zat op die dag niet achter de PC dus ik kon niet hem actieveren. En bovendien ben ik nog steeds bezig hier en daar wat veranderen. Toch is het tijd voor fris layout.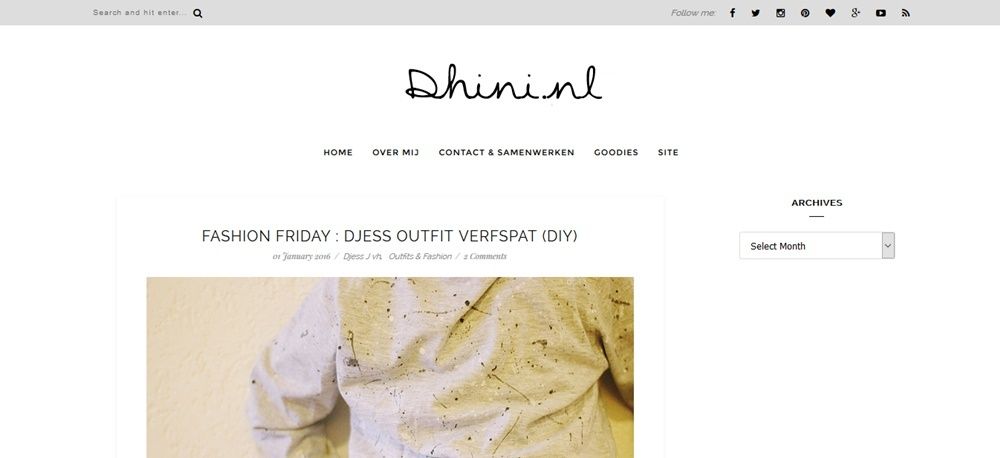 Say welkom to nieuw layout/theme. De designer van deze theme is MaiLoveParis, ik heb eigenlijk vorige jaar dit theme op ETSY al gekocht. De naam van de theme is BLUEBIRD. De origineel en die ik nu gebruik is anders want ik heb wat hier en daar aangepast.
– De menu vind je onder de titel en origineel menu is drop down maar bij mij werkt het niet, geen idee waarom. Ik kan nog niet vinden hoe en waar kan ik dat veranderen.
– Op recht boven vind je zoek vakje maar als je de page naar beneden scrolt, verschijnt de menu
– Boven de linkerkant kan je daar op sociaal media iconen klikken en mij volgen (als het nog niet)
– In de sidebar vind je about me, archives, categories, instagram sliders (werkt het nog niet, toen aan het proberen, wel dus dan maar iconosquare gebruiken werk goed, thank you Mai ), adventrentie/affiliate, banner(s)
– Footer vind je instagram sliders, banner(s), sociaal media iconen
Wat ik veranderd de next – previous Post naar cijfers pagina dat vind ik handiger (ik gebruik WP-PageNavi pluggin) en de code toegevoegd (veranderd de origineel code). Boven de comment heb ik next en Previous Post toegevoegd, ook vind ik handig als je naar vorige of naar volgende artikel wilt kijken/bezoeken (origineel geen). Ook voeg ik tag in de begin artikels. Ik ben blij met dit theme, alleen wat ik niet minder leuk is dat oud comment in oude artikels niet kan zien. Ik heb enkele manieren de code hier en daar toegevoegd, maar de comment is nog niet onzichtbaar dus laat maar. Ik heb hulp gevraagd naar de webdesigner maar ze kan (nog) niet mij helpen. Ze antwoordt en uitlegt snel als je vraagje hebt. Goed, lief en geduld van haar – thank you.
Er komt ook nog nieuw artikel(s) zoals Fashion Friday die al een tijdje wel geplaatst. Daar probeer ik in vorm outfit of fashion/mode items plaatsen. In de planning ga ik elke mandaag mani monday plaatsen. En ook nog in de planning vijf van … (nog geen idee wat). En misschien ook op de 16de elke maand over Djess en verder probeer ik varianten artikel plaatsen. Ook wil ik nog foto`s van alles nog wat plaatsen, alleen maak ik de laatste tijd minder foto`s (bedoel met DSLR 😉 ). Als ik plan maak, word meestal anders lopen daarom maak ik niet zo vaak planning 😀
Zie je rare dingen? laat mij weten zodat ik snel kan aanpassen!

Fijne dag en geniet ervan!
Dhini