Fifty Shades of Grey is uitgegroeid tot een wereldwijd fenomeen en de trilogie is vertaald in meer dan 50 talen over de hele wereld sinds de release.Tot op heden heeft de "Fifty Shades" trilogie meer dan 70 miljoen exemplaren wereldwijd verkocht, waardoor het een van de snelst verkopende boek serie ooit. Ook heeft de film het goed gedaan in 2015, wereldwijd heeft de film slechts 500 miljoen dollar binnen gesleept. E.L James de auteur van Fifty Shades, heeft bekend gemaakt tijdens de Fifty shades Fan Screening in NYC dat de andere delen "Fifty shades Darker" en "Fifty shades Freed" verflimd worden. De Fifty Shades fans kijken al uit naar 2016. De hoofdpersonage Anastasia Steele (Dakota Johnson) en Christian Grey (Jamie Dornan) is een rage geworden via social media, er wordt al druk gespeculeerd over de toekomstige filmposters en wie uiteindelijk nou "MRS. Robbinson" zal gaan spelen.
De meningen over de film zijn verschillend, dit zijn meer van bezoekers die de film hebben gezien maar niet de boeken hebben gelezen. Bij het lezen van de trilogie kom je er achter dat het niet alleen om bondage draait maar de hele proces tussen Ana en Christian wordt uitgebreid hierin beschreven. E.L James sleept je mee in de wereld van Ana en christian.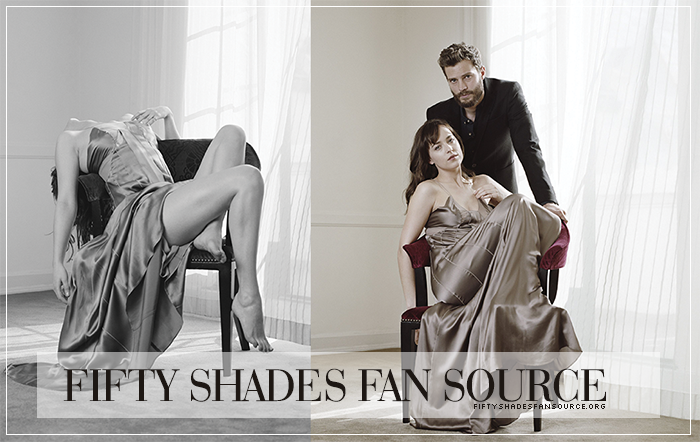 Sinds kort is er een Nederlands Fansite actief "Fifty Shades Fans source". Afgelopen week kreeg de website hoogbezoek uit de UK. Niemand minder dan E.L James heeft de website bezocht en goedgekeurd "Fifty Shades Fan Source" staat nu vermeld haar officiële website! Fifty shades Fan Source bevat informatie over de film en de spelers. De fansite heeft ook een Fotogallery waar je gratis HQ foto's kan downloaden o.a van de filmpremiéres van Fifty Shades, Movie Stills, Jamie Dornan en Dakota Johnson. De fotogallerij wordt dagelijks geupdated.
Heb je Fifty shades nog niet gezien of gelezen? Dan heb ik goed nieuws voor jullie. In samenwerking met Fifty shades Fan Source mag ik 1x de Trilogie verloten. Wat moet je doen om kans te maken hiervoor
Voordat je meedoet:
• Je bent 16 jaar of ouder, de trilogie bevatten erotische content.
• Winactie is alleen toegankelijk voor Nederland en België.
• Winactie loopt t/m 20 maart.
• De winnaar wordt persoonlijk benaderd via mail.
• Over de uitslag kan niet worden gecorrespondeerd.
Wat moet je doen om kans te maken
• Volg Fifty Shades Fan source via Facebook en Twitter
• Bloglovin en Instagram (deze 2 zijn vrijblijvend om te volgen)
• Tweet deze Winactie met: Win de Trilogie van Fifty Shades of Grey http://goo.gl/QTNNsC via @FiftyShadesFSNL #FiftyShades #DhiniNL #winactie #vijftigtintengrijs
• Laat een reactie achter met geldig email adres en vermeld daarbij hoe jij Fifty Shades Fan Source volgt met je nicknames.
Later, Baby!