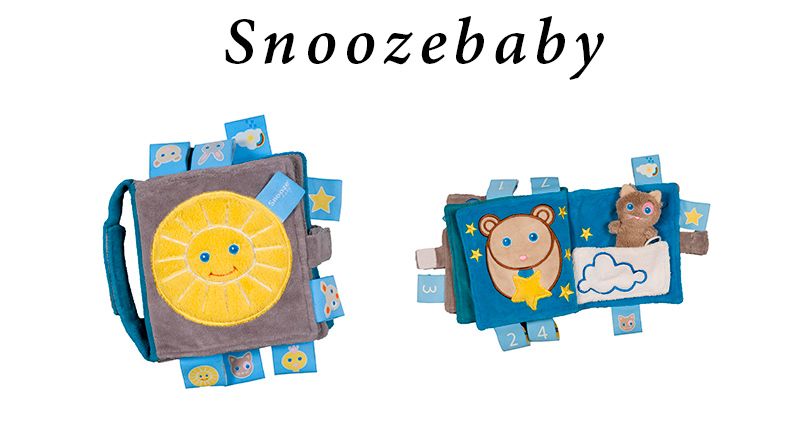 Inmiddels alweer tien jaar toonaangevend op de Nederlandse markt: Snoozebaby. Wat begon met knuffeldoekjes, gebaseerd op het slimme label concept, groeit uit tot een compleet lifestyle merk voor het gezin van nu. Knuffels, speeltjes, dekens, babykleding en accessoires. Snoozebaby denkt aan alles dat je nodig hebt voor een zachte, fijne leefomgeving voor je kleintje(-s) en jezelf.
Ik herinner me toen DJ klein was, had ik ook soort dit knuffeldoekjes. DJ had er plezier van.
Snooze you home
Eigenlijk is Snoozebaby zelf een opgroeiend kindje. Dat bredere assortiment zal ervoor zorgen dat Snoozebaby vanuit het babybed richting de rest van de babykamer kruipt, doorrolt naar de badkamer en uiteindelijk door de rest van het huis rent. Met enthousiasme, nieuwsgierigheid en een alom comfortabel gevoel. Snoozebaby – feel the effect.
Product beschrijving :
Dit Snoozebaby Boekje is het Sumum voor alle kinderen die graag dingen in en uit te zetten. Een leuke kleine kat die moet blijven in zijn mand , maar wil ze ? U kunt de staart van de hond trekken , kijk naar jezelf in de spiegel en horen een kleine eend gabble . Het dier labels zal u wijzen op de juiste pagina .
Geslacht : Unisex
Afmetingen : 15 x 15 cm .
Wassen in de machine alleen ; 30 graden , kort programma , niet in de droger , niet strijken
Is jou kid nog baby is deze booklet leuk voor jou baby mee te spellen. Of geef aan een van jullie familie die nog zwanger of al bevallen want ik mag een booklet een van jullie geven.
Snoozy Booklet kost €24.95 per stuk. Op snoozebaby.com vind je voor meer informatie of bekijk het complete assortiment.
Leuk voor Sinterklaas of kerstdagen voor je kids of als cadeautje geven.
Wat moet je doen :
– Laat een reactie achter hieronder dit artikel dat je meedoet
– Volg dhini.nl op blogloving en like dit artikel
Winactie loopt tot 19 november en de winnaar krijg een persoonlijk bericht via mail. Succes

Fijne dag en geniet ervan!
Dhini

Dit artikel bevat product(en) die ik heb ontvangen van een merk of bedrijf. disclaimer