WINACTIE IS GESLOTEN
Edit : Sorry dames…de antwoord moet mailen naar dhininl[at]yahoo.com dus jullie antwoord in de comment ga ik verwijderen. Sorry voor ongemaakt.
Hoewel my site in feb 6 jaar online en in maart Djess 1 jaar wil ik toch vroeg vieren dit jaar met winactie. 1ste winactie van dit jaar is best geslaagd en nu gaan wij naar volgende winactie. Ik ben heel erg blij en dankbaar dat er webshop die wilt meewerken met my winactie. Heel erg bedankt to Sans-Online

Kennen jullie waarschijnlijk wel he Sans-online?! Fashion webshop met allerlei merken zoals EDC, Object, Vera moda en meer. Ik mag Shoptegoed T.W.v. 50 euro weggeven aan my lovely bezoekers.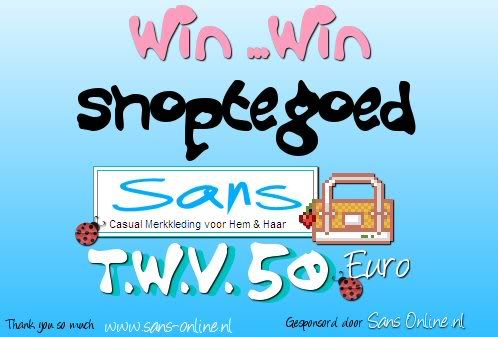 Wat moet je doen?
– Tweet (als hebt) Win @Sans_online shoptegoed t.w.v. 50 euro op dhini.nl http://tinyurl.com/6csb6fz
– Volg Hyves Sans-online (als dit hebt).
– Lief van jullie als mij facebook en blogloving of GFC (zie linkerkant sidebar) volgen (als jullie dit hebben en het is free om te volgen)
– Laat in de comment weten dat je meedoet.. "Ïk doe mee" en beantwoord deze vraag "Hoeveel merken Leren jassen van Dameskleding? " (hint kijk op Sans-online.nl) mail je antwoord naar dhininl[at]yahoo.com
Deze winactie loopt tot 28 jan.
Succes!