ja..ja…mensen heb ik weer een paar leuke dingen op mijn wensenlijst opgeschreven. En dit keer van Lush producten. Op verschillen blogs heb ik goede reviews gelezen, Ik word dus echt nieuwsgierig van.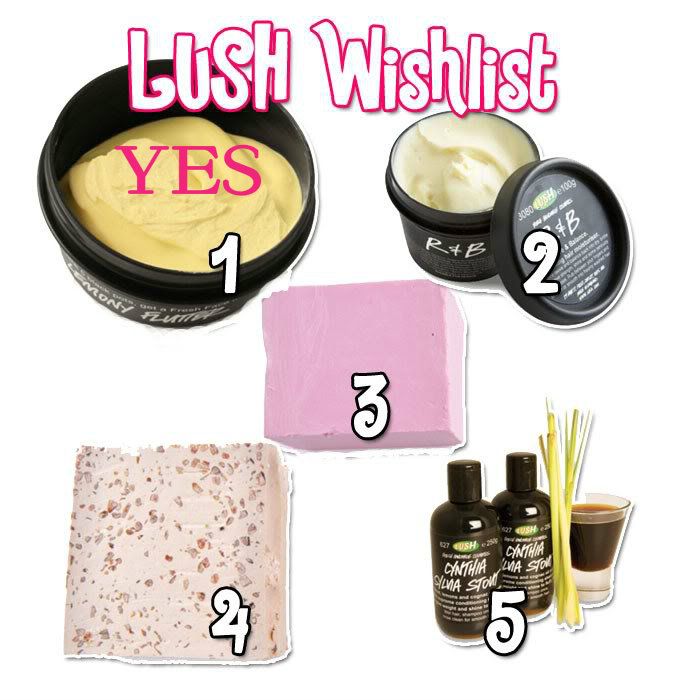 1. Lemony Flutter (Hand en Lichaam) €9,95/50g Tot nu toe deze product staat nog in mij wishlist.
2. R & B Hair Moisturiser (Conditioners) €19,95/100g Deb vertelde mij in de comment over dit conditioners. Hier word ik nieuwsgierig van.
3. Rock Star (Zepen) €4,95/100g Lekker geurtje las ik op verschillende blog. Deze staat ook nog lang in mij wishlist.
4. Porridge Soap (Zepen) €4,45/100g Graag wil ik deze ook.
5. Cynthia Sylvia Stout (Vloeibare Shampoo) €6,95/100g Dit is wil ik graag uitproberen. Thanks to Deb want ik word nu nieuwsgierig van.
Eigenlijk alle producten van Lush ben erg nieuwsgierig van, behalve voor bars want wij hebben geen ligbad. Hopelijk kan ik een paar lush producten scoren. Jammer dat geen lush winkel hier in de buurt. Toch lijkt mij als eerst ruiken of sample krijgen om uit te testen.
Ik ben benieuwd naar jullie favoriet lush producten. Let me know in de comment