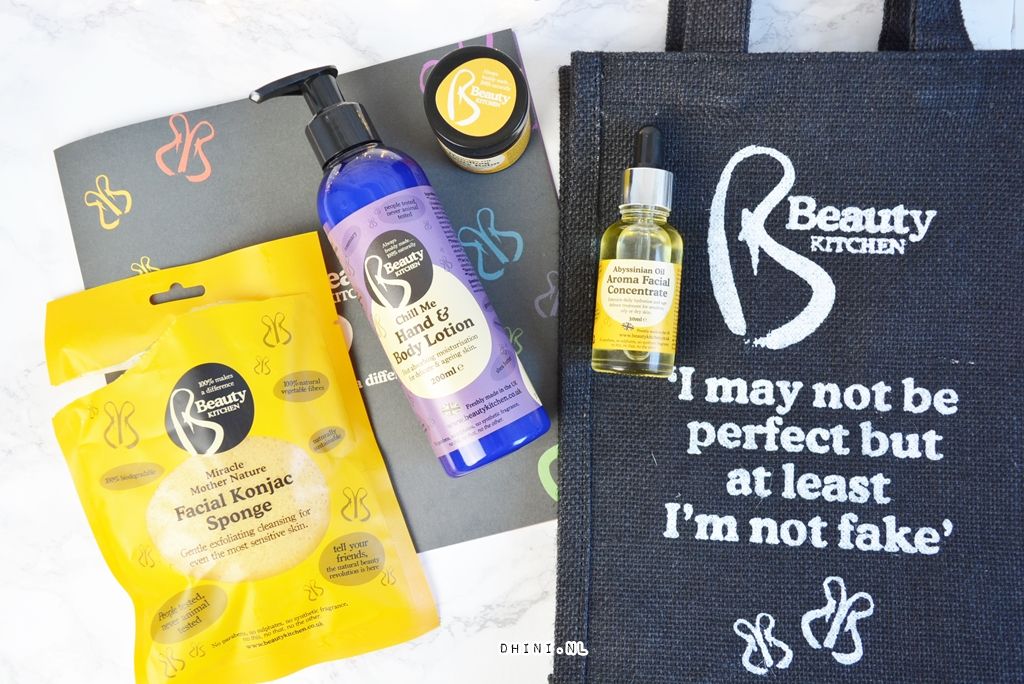 100% natuurlijk, 100% effectief, 100% betaalbaar én 100% ethisch. it gedachtegoed laat Beauty Kitchen niet
alleen tot uiting komen in haar producten, verpakkingen en keuze van ingrediënten, maar ook in de zorg voor onze aarde. Dit merk is nieuw voor mij en natuurlijk graag uittesten. Ik ben dus erg blij toen ik deze producen ontvangen ter review.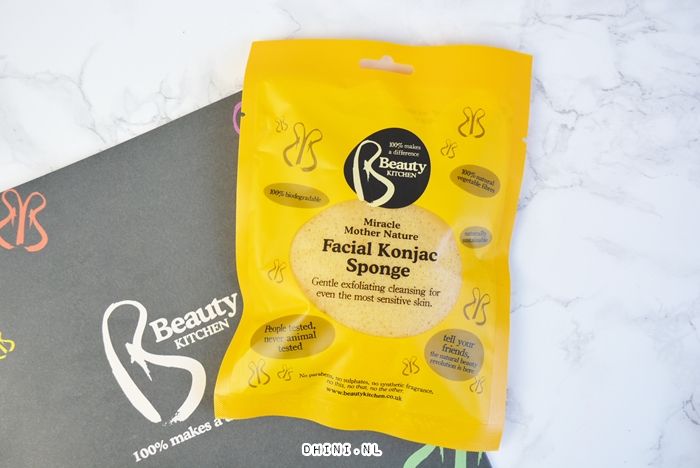 Facial Konjac Spons €8.99
De spons zit in een plastic verpakking en door doorzichtige gedeelte in het midden kan je doorheen zien de kleur van de Konjac spons. Aan de achterkant van de verpakking vind je wat informatie. Maar …
Wat is Konjac?
Dit is een vaste plant die voor 97% uit water bestaat, rijk aan mineralen en PH-neutraal zodat de huid perfect in balans blijft.

Wanneer je de verpakking opent, zie je groot Konjac spons. Ik heb ooit over Konjac spons gehoord en gezien toen ik bij het event was maar bij deze Konjac spons is anders. Dit wordt niet echt gekromd als hij droog is. Deze spons is milieuvriendelijk, 100% natuurlijk en gemaakt van pure eetbare plantaardige wortels. Voor gebruik ga je de de konjac spons eerst in warm water spoelen. De spons reinig mij make-up helaas niet. Voor mij gebruik ik hem dus na mijn gezicht gereinigd.

Abyssinian Oil Handbag Beauty Balm €19.99
Leuk verpakking met beide zijkanten open.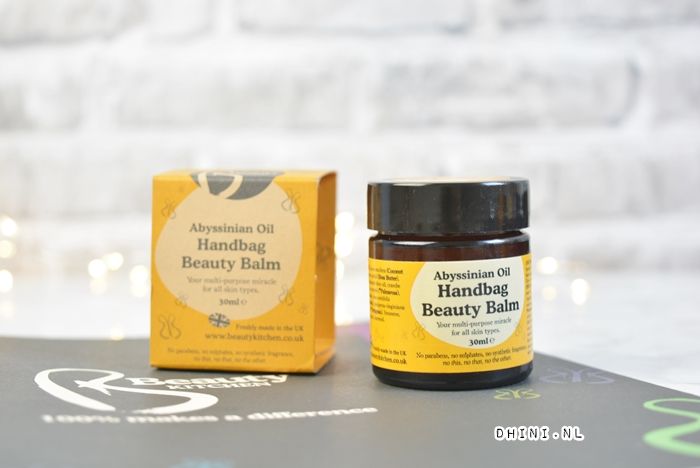 De balm zit in een glas bruine potje met zwarte deksel.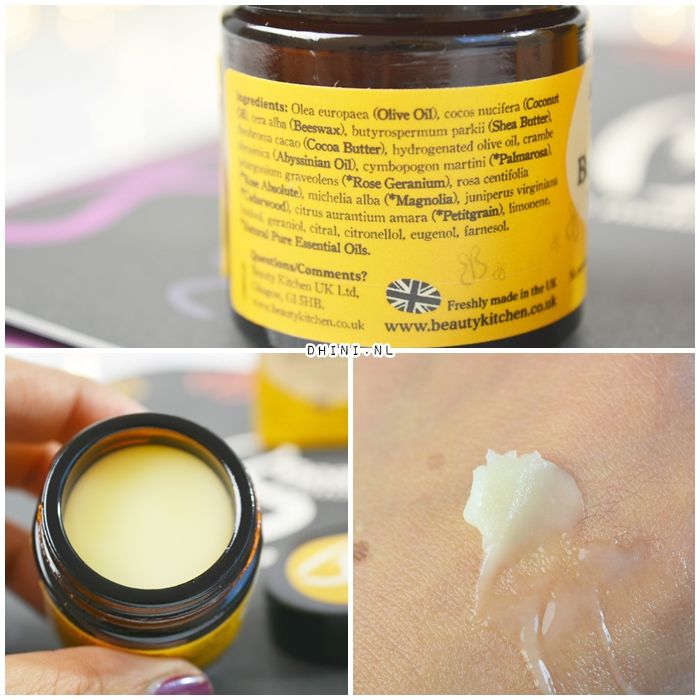 Beauty Kitchen Abyssinian Oil Handbag Beauty Balm wat een lange naam hé. De balm bevat krachtige oliën daarom ruikt de balm echt sterk kruidig, hier moet je wel van houden. Het is niet storend. Met de koude weer vind ik de geur is juist lekker. Deze balm is volgens Beauty Kitchen een wonderbalsem want je kan hem gebruikt worden als een reiniger, zachte scrub of diep voedende balsem voor de droge huid. Voordat naar bed reinig ik mijn huid met deze balm. Het smeert gemakkelijk (net als ijs gesmolten) en hij laat een vet aanvoelen (in positieve manier) maar niet plakkerig. Mijn huid voelt lekker zacht aan. Op droge plekjes breng ik hem als voedende balsem en het werkt fijn.

Abyssinian Oil Aroma Facial Concentrate €29.99 – 30 ml

Dezelfde verpakking net als Oil Handbag Beauty Balm in donker geel doosje.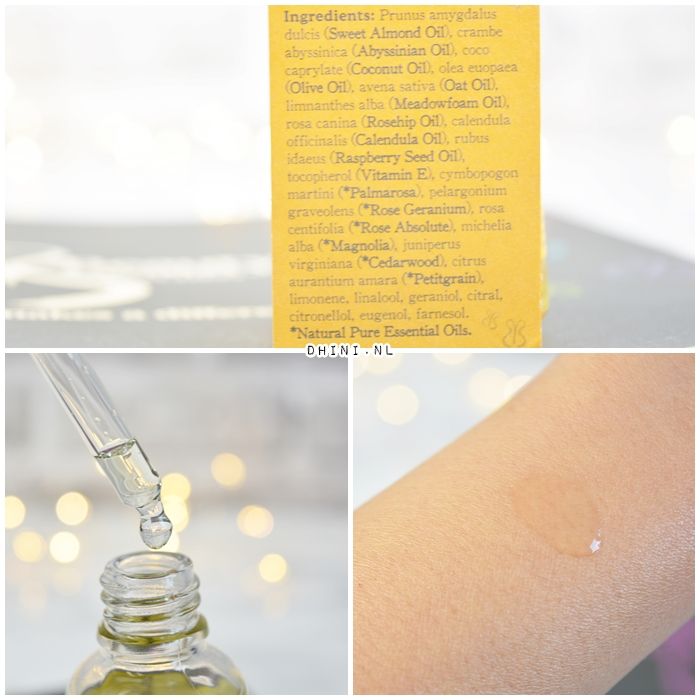 Beauty Kitchen Abyssinian Oil Aroma Facial Concentrate zit in een doorzichtig glas fles met handig pijp systeem. De olie is een 100% natuurlijke, intensieve dagelijkse hydraterende olie, geschikt voor alle huidtypes. Bevat een mix van maar liefs 15 verschillende oliën, onder andere: Abyssinian olie, magnolia olie en palmarosa. Met 3 tot 4 druppels olie in een gereinigde huid met ronddraaiende bewegingen masseren. Ook gebruik als verzorgende basis voor het aanbrengen van make-up. Ik gebruik hem als beide manieren. Voordat ik naar bed ga, masseer ik hem met 2 druppels olie over mijn gezicht. Mijn huid is erg zacht en voelt heerlijk. De olie is fijn smeerbaar en lekker zacht kruidig geurtje. Het trekt de olie goed langzamer in, voelt geen vet en plakkerig. Ook meng ik deze olie een druppel met foundation.

Chill Me Hand & Body Lotion €9.99 – 200 ml
De verpakking is al handig met pompsysteem. De fles is van plastic met label eromheen.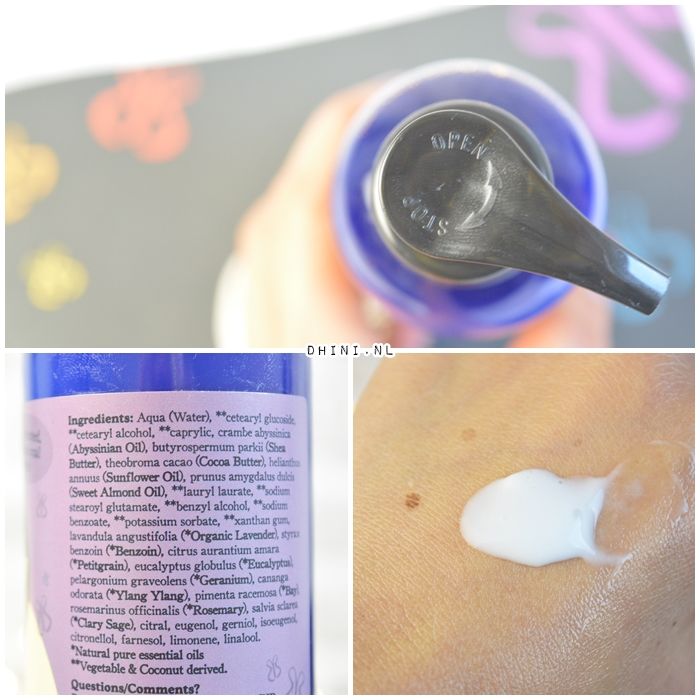 Beauty Kitchen Chill Me Hand & Body Lotion heeft een lichte lotion daardoor smeert het gemakkelijk. De lotion bevat Shea butter die wordt verkregen uit het zaad van de Shea Tree en wordt verwerkt zonder gebruik van chemicaliën. Deze hand en body lotion heeft een subtiel kruidig geurtje met iets fris achter blijft. De olie trekt snel in en absoluut niet vet aanvoelt. Laat je je hand en lichaam lekker verwennen met deze heerlijk ruikende hand en body lotion.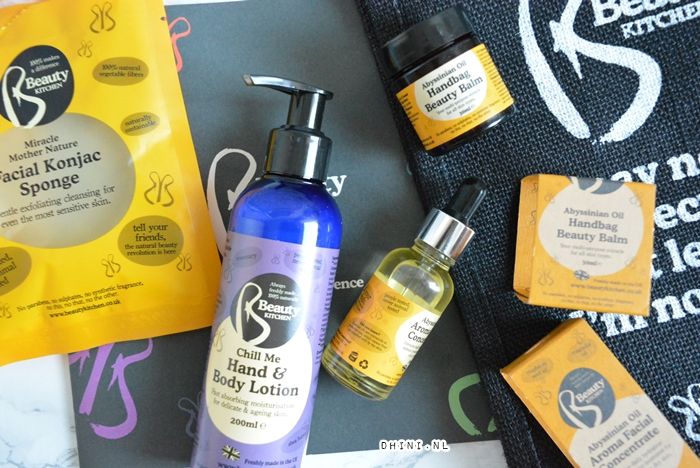 Beauty Kitchen producten vind ik erg fijn en mijn favoriete zijn de balm. aroma facial en hand & body lotion. De geur vind ik ook lekker en geeft mijn huid heerlijk zacht aanvoelen. Zeker aanraden. Beauty Kitchen is exclusief verkrijgbaar bij Holland & Barrett (voorheen De Tuinen/Essenza) in Nederland en België.
Welke Beauty Kitchen product(en spreekt je aan?

Fijne dag en geniet ervan!
Dhini

Dit artikel bevat product(en) die ik heb ontvangen van een merk of bedrijf.