Etos introduceert twee nieuwe varienten Primer Refressing en Primer Anti Redness. Vandaag ga ik een van twee varieten "Etos Primer Anti Redness voor jullie beshrijven.

De primer zit in een transparant harde plastic flesje met zwarte pomp erop. De flesje heeft pompsysteem. Handig zo kan je de primer gemakkelijk dosseren hoeveelheid heb je nodig.


De primer heeft gelstructuur en mint kleur maar als je op je gezicht smeert, hoeft je niet te zorgen dat je gezicht mint kleur krijgt. De primer brengt makkelijk aan. Ik heb geen redness op mijn gezicht dus ik weet het niet of die redness vervagen met deze primer. Bij mij na aanbrengen van de ze primer voel ik mijn gezicht lekker zacht aan en geegaliseerde uitzien.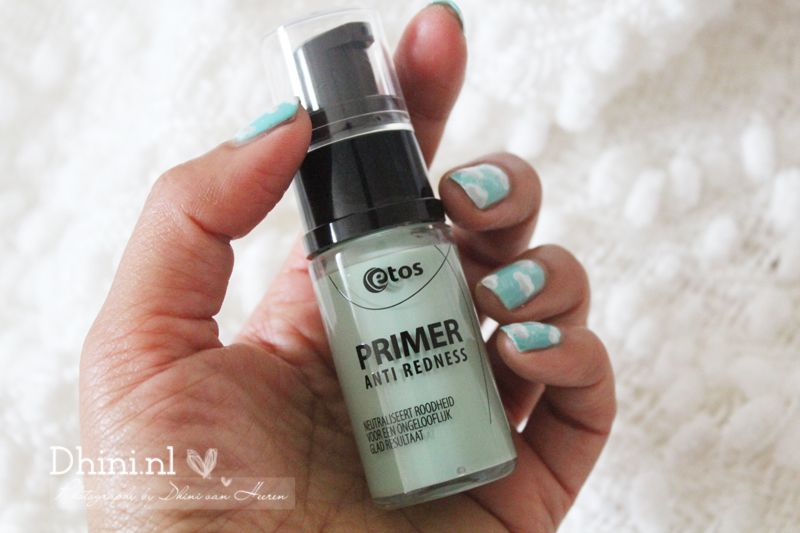 De primer bevatten vitamine E en vrij van conserveringengsmiddelene en parfum. De flesje is licht en dus handig om overaal mee te nemen voor weekje weg ofzo. De primer kan ook los gebruiken of aanbrengen na dagcreme. De prijs van deze fijne primer is €5,99. Budget prijs voor strallend gezicht van je dag. De primer is al in de Etos winkel bij jou in de buurt liggen.