Tijd voor bloemen. Het weer is wel af en toe somber maar ik ga mezelf vrolijk maken met bloemig outfit. En bovendien zocht ik boyfriend jeans die nu ik heb. Een tijdje terug heb lekker op Miss Etam website rondgesnuffeld en ik zag er heel leuk en vrolijk collectie. Vandaag laat ik de kleren showen in dit artikel.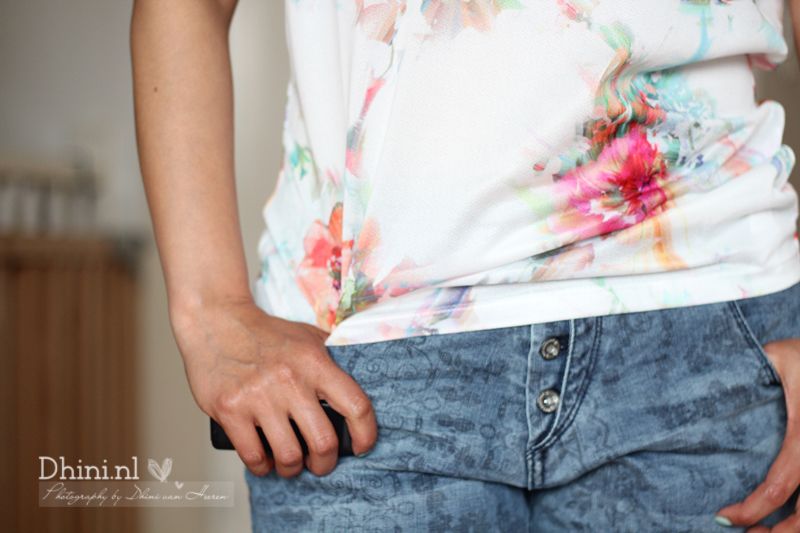 Hierboven de kleding die ik besteld. Allemaal in de sale
– Top bloem wit (S) – €24,99 €14,99
– Jeans 'Misty' print 32 (36) – €9,99
– Trenchcoat grijs (S) – €69,99 €34,99


De jeans is een beetje groot maat maar ik zoek juist want ik wil graag de laatste tijd iets groot maat dragen. En deze jeans is boyfriend jeans style.


De top is gemaakt van soepele voile stof. Deze witte top met kleurrijke bloemenprint heeft korte mouwen en een ronde hals. De achterkant loopt rond aan de onderkant en is iets langer dan het voorpand. Fijn als low jeans dragen dan de achterkant veilig
Grijze jas in trenchcoat is gemaakt van soepele stof. Graag wil ik een trenchcoat hebben maar de meeste is te groot en ook zo deze trenchcoat is voor mij toch iets te groot. Jammer want ik ben wel best verliefd op de kleur en de print op de coat. De lengte is prima, alleen de mouwen vind ik toch te groot dus ik heb hem terug sturen (gebracht naar de winkel). Ik kan hem gewoon gratis terugsturen maar ik ging naar de winkel want ik was toevallig naar het centrum 😉

Over Miss Etam
Het voordeel van online webshop kan je 24 uur per dag online winkelen en dat is ook zo op de webshop van Miss Etam. Zoek je damesmode in de maten 36 t/m 46, grote maten dameskleding in de maten 44 t/m 56, korte maten voor vrouwen met een lengte tussen 157 cm en 164 cm. En damesmode voor de langere vrouw vanaf 178 cm kan je terecht op de webshop van Missetam.nl
Met iDeal, creditcard, middels overschrijving (vooruit betalen) of op rekening (achteraf betalen) kan je betalen. Je bestelling kunt je laten bezorgen of afhalen in een Miss Etam winkel bij jou in de buurt, winkelzoeker (geen verzendkosten). Als je je bestelling laten thuiszorgen dan betaal je verzendkosten van € 4,95.
Alle online bestelde artikelen worden door Selektvracht afgeleverd. SelektVracht levert overdag tussen 12:00 – 18:00 uur, 's avonds tussen 18:00 – 21:00 uur en op zaterdag tussen 09:00 – 13:00 uur. Bij het invullen van jouw persoonlijke gegevens kun je ervoor kiezen om de bestelling in de avonduren te laten bezorgen of, als je niet thuis bent, bij de buren.