In de morgen na gedoucht drink ik eerst een glas water daarna ontbijt. Vandaag maak ik kennis met My Muesli "Holland-muesli". Lees je mee

Ingrediëntenlijst
10% yoghurt-sinaasappel-crunchy (havervlokken, honing, rijstsiroop, speltvlokken, grof gemalen havermeel, ongehard palmvet, yoghurt poeder, gepofte rijst, sinaasappelolie, gerstemout, zeezout*), roggevlokken, gerstvlokken, havervlokken, gedroogde abrikozenstukjes, gedroogde vijgenstukjes, emmertarwevlokken, kamutvlokken, zonnebloempitten, tarwevlokken, teff-vlokken, 3% chiazaad, 3% gevriesdroogde duindoornbessen, 3% gedroogde gojibessen, gedroogde mangostukjes, volkoren-cornflakes (maïs), PurPur-tarwevlokken, speltvlokken, rijstmeel. Allergie informatie: Kan sporen van schaalvruchten (noten en amandelen), pinda's, soja, lupines en sesam bevatten.

My muesli "Holland-muesli" zit in vrolijke koker met verschillende afbeeldingen (kleur en orange). In My muesli "HOLLAND-MUESLI" zitten er fruitige abrikozen, mango stukken, vijgen en goji bessen. In China beschouwen ze de superfruit als een garantie voor een lang leven, gezondheid en schoonheid – of dat zo is of niet. Ook zit er chia zaden in. Chia-zaden zitten boordevol proteïnen en andere belangrijke voedingsvezels. Ze bevatten 20% eiwit en 30% voedingsvezels – dat is meer dan in de meeste zaden en granen. In Nederland bekend als Superfood. Je proeft af en toe zure smaak door gevriesdroogd zure duidoornbessen. Gelukkig zit er duidoornbessen niet zo veel in. Ik vind deze muesli met melk lekkerder dan met yoghurt, maar je kunt een klein beetje honing of suikervervanger en of wat fruit toevoegen.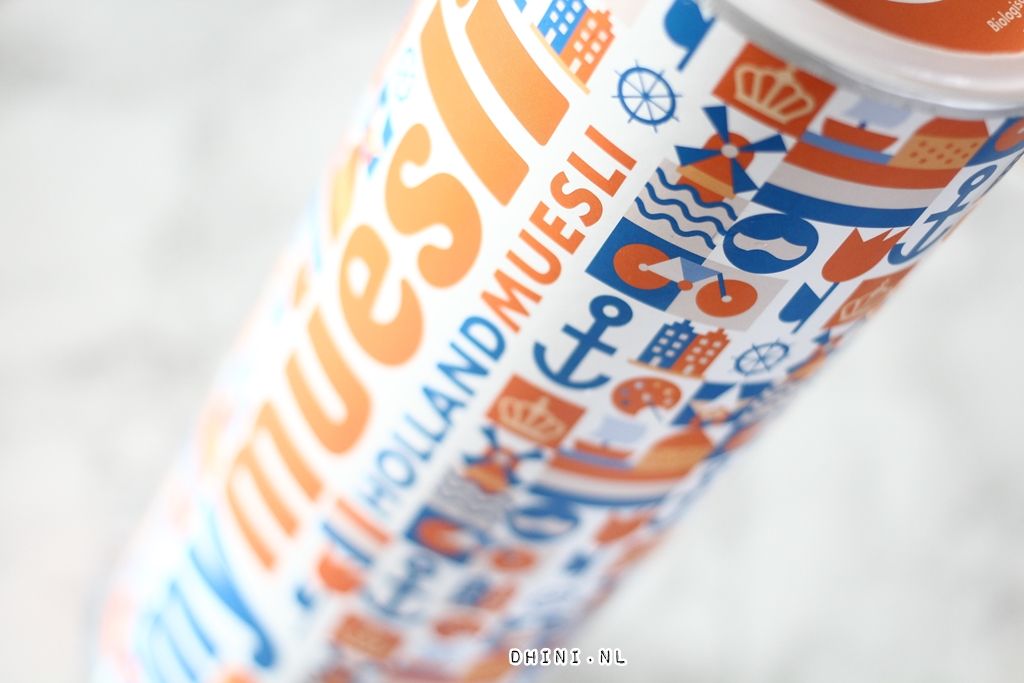 My muesli bevat 100% biologische ingrediënten. Volgens EU bio-richtlijnen vermijden wij het gebruik van gentechnologie en kunstmatige stoffen, zoals kleur-, smaak- en conserveringsstoffen. My muslie "Holland-muesli" kost € 9,90 (575g) is verkrijgbaar in onze Nederlandse winkels en in de webshop My Muesli. Wat nog leuk is dat je eigen My Muesli zelf kan combineren.
mymuesli opent eerste brand store in Utrecht
Liefs,
Dhini

Volg jij mij al via Instagram, Facebook, Bloglovin, Youtube, Pinterest en/of Twitter?

Dit artikel bevat product(en) dat door bedrijf/merk is opgestuurd. disclaimer