It`s time to show my new earrings. Een tijdje geleden ontving ik mail van een sieraden webshop Happiness Boutique dat ik twee oorbellen of een ketting mocht uitkiezen. Ik heb voor twee oorbellen uitgezocht en vandaag ga ik aan jullie showen. Zijn jullie benieuwd welke oorbellen heb ik uitgekozen. Klik snel verder…

Hier zijn ze twee oorbellen die ik heb uitgekozen. OMG! eerlijk kan ik echt niet kiezen want er zijn zo veel leuke oorbellen. Ik word hebberig van. Toch uiteindelijk heb ik twee oorbellen uitgekozen. Zoals je ziet, ze zaten in schattige roze organza zakjes (zoals op foto hieronder)

Eerste oorbellen die ik heb uitgekozen is Minimalist Style Marble Stud Earrings uit categorie Delicate Earrings. De oorbellen zijn vierkante marble steen met goud accent eromheen. De materiaal van deze oorbellen zijn marble stone, zinc (nickel and lead free). De oorbellen zijn wel best dik maar prima om te dragen, niet zwaar (12g), de lengte 1,1cm en breed 0,8 cm. Ze zijn geschikt voor overdag of formeel te dragen. Deze oorbellen is er in zwart met goud. En er zijn bijpassende sieraden zoals een armbandje en een ring. Superleuk toch! Deze oorbellen kost €14,90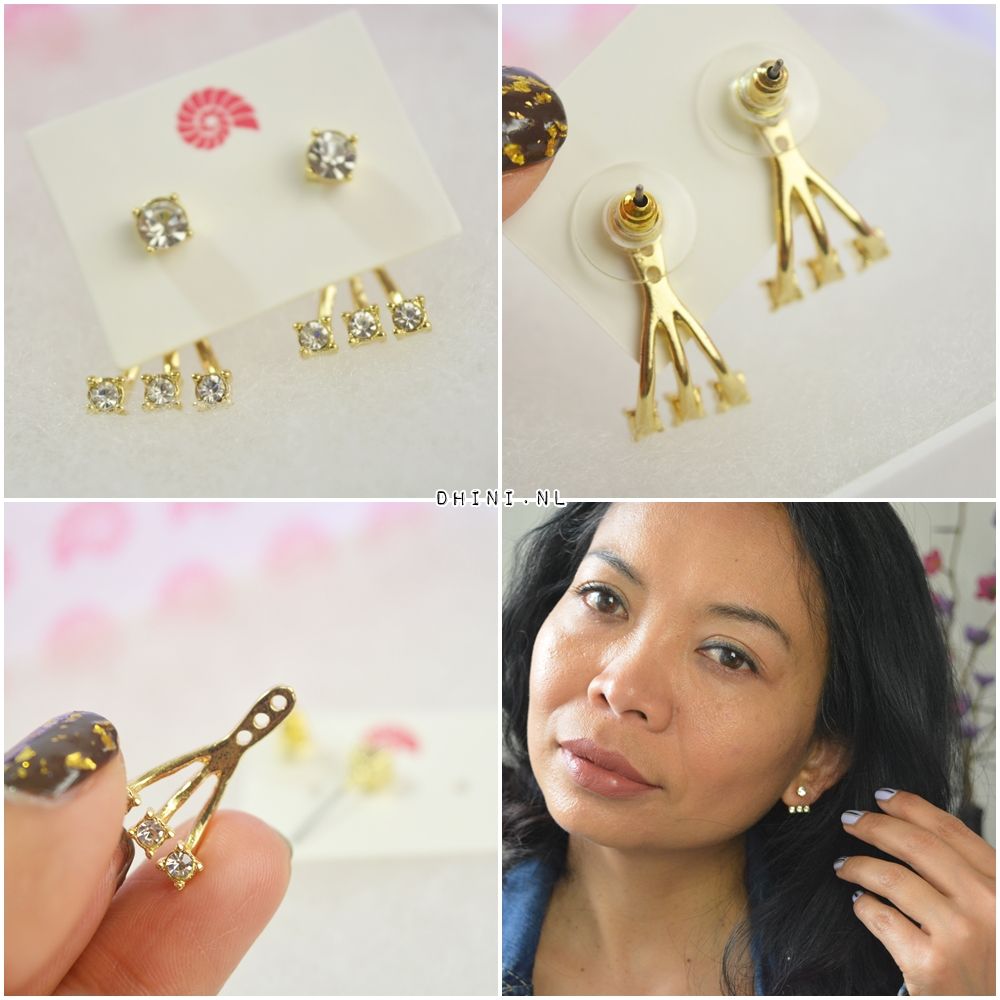 De tweede oorbellen heb ik de categorie Ear Cuffs & Ear Jackets "Sunlight Ray Ear Jackets in Gold". Deze mooi oorbel heeft twee onderdelen : een goud rhinestone knop oorbel en goudstuk met drie kleinere steentjes. De goudstuk heeft drie gaatjes waarmee je laag, middel of hoog oorbel wilt dragen. De goudstuk met drie gaatjes zit achteraan op je oortje en de goud risnestone nop aan de vooraan van je oor. Door drie gaatje van de goudstuk kan je laag, middel of hoog zelf kiezen. De materiaal : zinc (nickel and lead free), rhinestones. Deze oorbellen kan je voor overdag of voor special gelegenheid dragen. Het kost €13,95
Check op sieraden webshop Happiness Boutique voor meer mooi sieraden. Standaard verzenden (zonder no.tracking) is gratis.
USE code "dhini" at checkout to get 10% discount for orders over 19 euros and it is valid until July 10th.
Blijf op de hoogte van Happiness Boutique producten door deze Facebookpagina te liken.

Fijne dag en geniet ervan!
Dhini
Dit artikel bevat product(en) die ik heb ontvangen van een merk, PR of bedrijf.