Hmmm wat is dat? Is dat robot? Misschien vraag je het wel als jullie de foto hierboven. Een grappig ding is het hé. Vandaag vertel ik meer hierover, kijk dus snel mee

Een paar dagen terug bestelde ik een speelgoed Kikkerland Wind Up. Misschien herinner jij je het opwindbare speelgoed van vroeger nog? Dit is dus een opwindbare speelgoed. Ik heb er een en hij heet "Pea". Een leuk naam toch voor z`n speelgoed. Pea is een soort klein hondjo. Zo zat Pea in de doos. Door transparante verpakking, kan je zien hoe Pea er uitziet. Aan de achterkant van de doos zie je ook de tekeningen van Pea.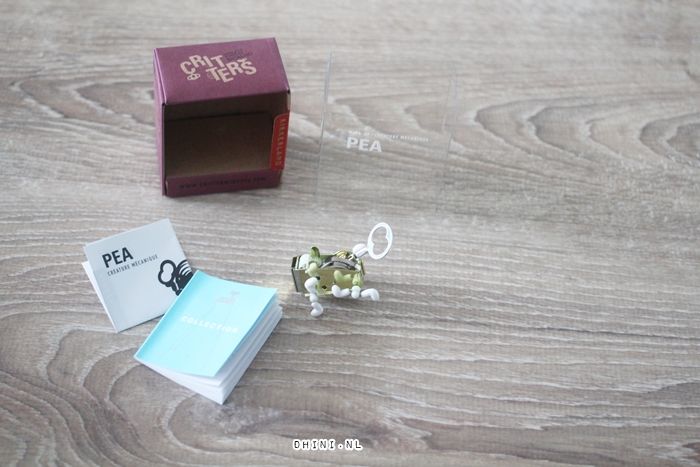 Wat zit er in de doos : Pea, boekje en een papiertje over Pea

Zo ziet er Pea van zijkant en voorkant. Doe je even de windsleutel draaien en laat hem door de huiskamer rennen. Hoe leuk is dat. Je krijg glimlach op je gezicht als je dit ziet. De Wind Ups van Kikkerland zijn een uniek stukje techniek en gemaakt van metaal. Wat fijn is dat je geen batterijen voor nodig.
Hieronder een kort filmpje

Wat een superleuk en gekke speelgoed/robot hé. Wil je ook eentje hebben maar dan in andere vorm, don`t worry want Kikkerland Wind Up is er in vijf soorten: Cranky, Sparklz, Le Pinch, Pea of Critter. Het kost € 19,95 per stuk, te bestellen op Ditverzinjeniet
Liefs,
Dhini
Dit artikel bevat product(en) die ik heb ontvangen van een merk of bedrijf.