De nieuwe product van Kneipp is een huidolie. De 'Beautiful Shape' huidolie is voor vrouwen die een stevige huid wil krijgen en de huid egaliseert. Ik heb een paar weken deze olie uitgetest. Benieuwd wat ik ervan vind?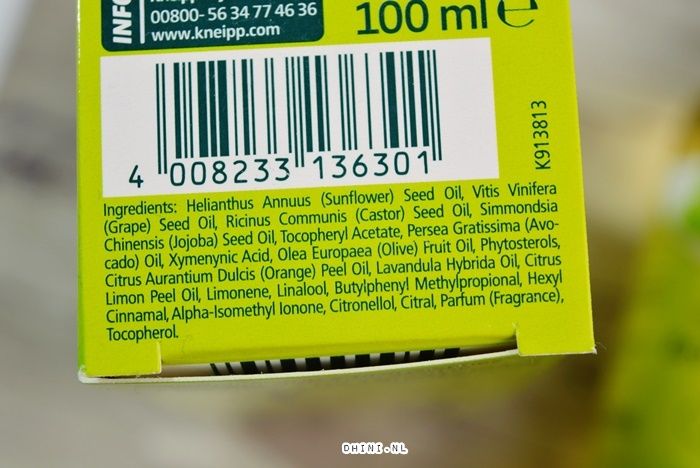 De ingrediënten staat op de doos.
Twee krachtige natuurlijke ingrediënten Druivenpitolie is bijzonder rijk aan vitamine E en essentiële vetzuren. De 'anti-aging' vitamine E beschermt de huid tegen vrije radicalen en helpt daardoor tekenen van huidveroudering te voorkomen.
sandelvrucht bevordert de doorbloeding en daardoor een zichtbare versteviging van de huid. Naast deze twee krachtige natuurlijke ingrediënten bevat deze huidolie onder meer ook zonnebloemolie, grapefruitolie, wonderboomolie en jojobaolie. Elk ingrediënt in deze olie helpt om de huid te verzorgen, te herstellen en te beschermen.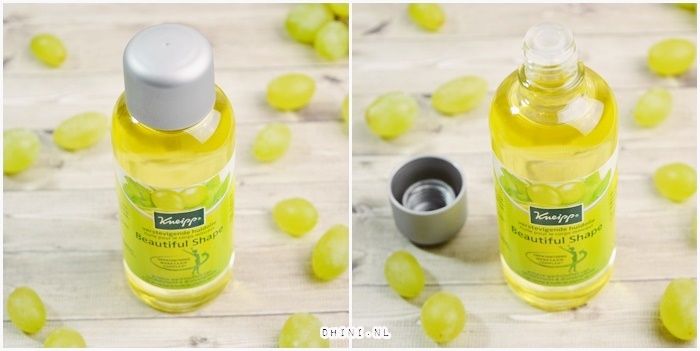 De huidolie zit glas flesje met een draaidop. Als je de dop eraf draait, zie je de gaatje. Het zou fijn zijn als met pompsysteem of klikdop zodat je makkelijk kunt doseren. Door doorzichtige glas flesje zie je gelijk de kleur van de olie.

Wat heerlijk olie om op je huid te smeren want de olie trekt lekker snel in de huid. Het ruikt ook nog heerlijk zacht fris fruitig. Volgens Kneipp na twee weken de huidolie in te masseren een omvangvermindering van je bovenbenen te realiseren van 2,8 cm en na vier weken tot wel 3,2 cm. Bij mij heb ik de verstevigende werking van de olie nog niet echt kunnen ontdekken. Maar mijn huid ziet er mooi glad uit en soepel aanvoelen. De olie is geschikt voor alle huidtypen en in het bijzonder voor de droge of gevoelige huid.
Door lichte olie vind ik deze Kneipp huidolie heerlijk en trekt snel in. En de geur is subtiel aanwezig. Kneipp producten bevat natuurlijk ingrediënten en geen op dieren getest.
Kneipp Beautiful Shape huidolie van Kneipp is voor 12,49 (100ml) nu verkrijgbaar bij diverse drogisten en webshops.

Fijne dag en geniet ervan!
Dhini
Dit artikel bevat product(en) die ik heb ontvangen van een merk, PR of bedrijf.