Eerlijk gezegd de nagellakremover stank van chemische stoffen :bleh:
A Beautiful Life heeft de nagellakremover die op sojabasis gemaakt en er zit geen DBP Toluene of formaldehyde.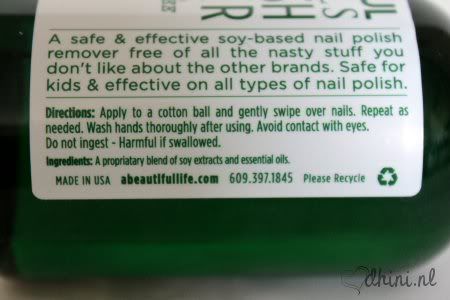 De verpakking vind ik gewone flesje, gemaakt van plastick met een schroefdopje en binnen in is er dopje met gaatje erop zodat je zelf kunt bepalen hoevel druppels nodig. De geur…Ik ruik naar zachte grapefruit en een
beetje citroen. niet te overheersen en dat vind ik niet erg. Ik vind het aangename geur.
Ik heb deze remover op een wattenschijfje 2 druppels en voel je meteen de olien en natuurlijk plustpunt voor je nagels en nagelriemen. In het begint moest ik echt wrijven zodat de nagellak eraf kan maar daarna het is makkelijk, ik denk dat het gewoon een kwestie van wennen is want deze remover is olie en heb maar 1 wattenschijfje nodig, behalve met glitternagellak dat meer dan 1 wattenschijfjes nodig.
Met deze nagelremover zijn myn nagels niet droog, wel olien maar niet vettig. Ik was meestal myn handen na nagelremover gedaan en die olie meteen weg na wassen maar myn handen/nagels voel niet droog dat is
natuurlijk pluspunt. De nagels zien er shine uit ook na gewassen. Kijk maar hieronder

Pluspunten:
• 3 Free (No DBP Toluene, or Formaldehyde), milieuvriendelijk dus
• verzorgend voor nagels/nagelriemen
Minpunten:
• prijs ($20)
Te vinden bij A Beautiful Life en het kost $20 per stuk in 4oz. en zend internationaal of bij Eleven (169 kr)
Conclusie: Yes..! dit is absoluut my favo. Ben erg tevreden.
Deze product heb ik gekregen van A Beautiful Life