Toen ik deze pakketje van Etude House USA, de nieuw naam BB Cream Boutique ontving, zag ik heel leuk/schatige/mooi verpakking. I am just in love :yes: Jullie kunnen zien hoe cute ze zijn he…
Vanavond ga ik voor jullie deze cute…cute…spulletje reviewen en swatches.

De MiniME Perfumed Mist (Body & Hair) (Ms. Hot – Tropical Fruity)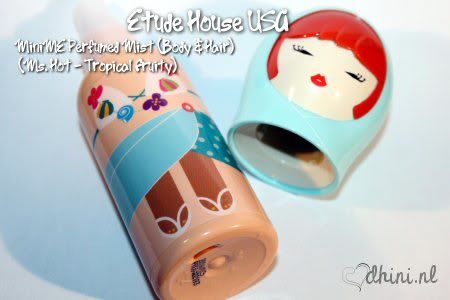 Deze parfume mist zit in cute plastick flesje met leuk tekening label eromheen en de dopje…zo leuk. De dopje trektje gewoon van de flesje en kan je die parfume spruiten in je body of je haar. Ik heb Ms. Hot – Tropical Fruity. Ik ruik naar frisse geur (denk aan lemon/citroen), denk aan wasmiddel in citroen geur maar dan iets anders …lekker fris gewoon. Als die op is ga de fles echt bewaren (zoooo cute). Er zijn 5 geuren en wil ze allemaal verzamelen. Het kost $19.99 100ml. Zo leuk en ik wil ze allemaal verzamelen.
Nu naar de prachtige lakje in hele mooie flesje (love vorm)


Dear Darling Nails Bling Bling Nail Polish RD010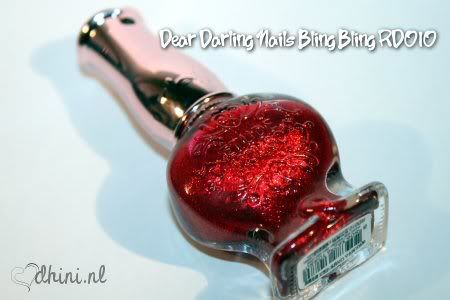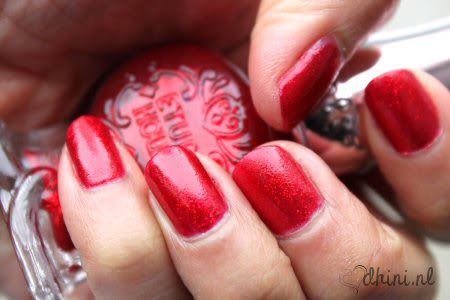 Deze echt prachtig rode kleur lakje zit in echt super mooie vorm love flesje met goud dopje. De kwastje is fijn in gebruik. Om mooi egale kleur en goed dekken heb ik 3 laagjes nodig maar het resultaat echt prachtig. Het geeft mooie sparkling/shimmer lakjes….just love en me…want moreeeeee. De kleur is echt precies goed voor Christmas feest. Elke keer kijk ik weer naar mooi lakjes op myn nagels. Deze lakje kost $6.99 in 10ml. en Base contains no Toluene/Phthalate.

LUCIDarling Fantastic Nails Nail Polish – 3 Sparkling Music Box Mint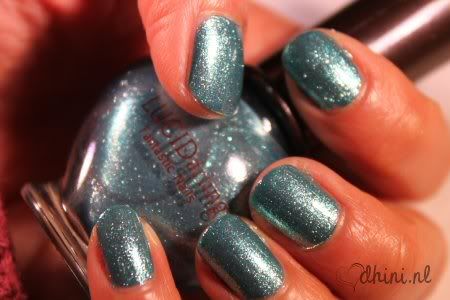 Zoals prachtige rode lakje..deze lakje is ook heel erg mooi. De love vorm flesje is wel dezelfde maar dan anders. Deze flesje is meer bol en zonder de tekeningen op de flesje, heeft donker bruin dopje. De kwastje is ook fijn in gebruik. Het dekt goed en het droogt best snel en heb maar 2 laagje nodig om mooi egale lakje te hebben. In echt is hij echt mooi kleur. Love it
Deze lakje kost $4.99 en er zijn 4 mooi categories : Shimmering, Glittering, Sparkling, and Sequins
Ooooooh…. ik wil ze allemaal.
Deze producten kan je bij BB Cream Boutique bestellen. Om te bestellen moet je eerst contact opnemen om te weten hoeveel the shipping costs. Ze hebben ook andere cute/leuke spullen, neem dus ff kijken op BB Cream Boutique.
Deze product heb ik gekregen voor review/swatches