Gel manicure zonder licht! Yeah…! Ik vind heel erg leuk toen hierover las/wist. Echt revolutionaire gelmanicuresysteem zonder licht. Ik laat jullie kennis maken met Sally Hansen Miracle Gel.

V.l.n.r. 100 Top Coat Gel Manicure en de nagellakjes 110 Birthday suite, 340 Hydro Electric en 540 Combusteable. Ze zitten in mooi groot fles.
De Miracle Gel-manicure bevat de gepatenteerde 'Tube Technology'. Hierdoor komen er meer actieve bestanddelen vrij in de gellaag die de nagels voortdurend verzorgen en er zo voor zorgen dat de manicure tegen een stootje kan. Het resultaat? Super glanzende nagels die ultralang mooi blijven. De geavanceerde formule van de Color Coat en de Top Coat bevat een oligomeer en de Top Coat bevat daarnaast ook nog een foto-initiator. De foto-initiator in de Top Coat-formule gaat een verbinding aan met het oligomeer in de Color Coat, waardoor de formule zonder LED-/UV-licht uithardt. De manicure hardt na verloop van tijd steeds verder uit, waardoor de laag steeds sterker wordt. En dat zonder LED-/UV-lamp! Gewoon licht is al voldoende. En als je het tijd vindt voor een andere look, is Miracle Gel heel eenvoudig te verwijderen met een nagellakremover met of zonder aceton. Geen gedoe met weken, inwikkelen, schrapen of vijlen.

De nagellak heeft breed kwast en het is fijn in gebruik. De nagellak heeft fijne textuur, niet te dik en niet te vloeibaar.

Je hebt maar twee dingen nodig een Miracle Gel Nagellak en Miracle Gel Top Coat. Je Je hebt geen basecoat nodig. Dat is het!

110 Birthday suite Nude kleurtje maar twee laagjes dekt prima.

340 Hydro Electric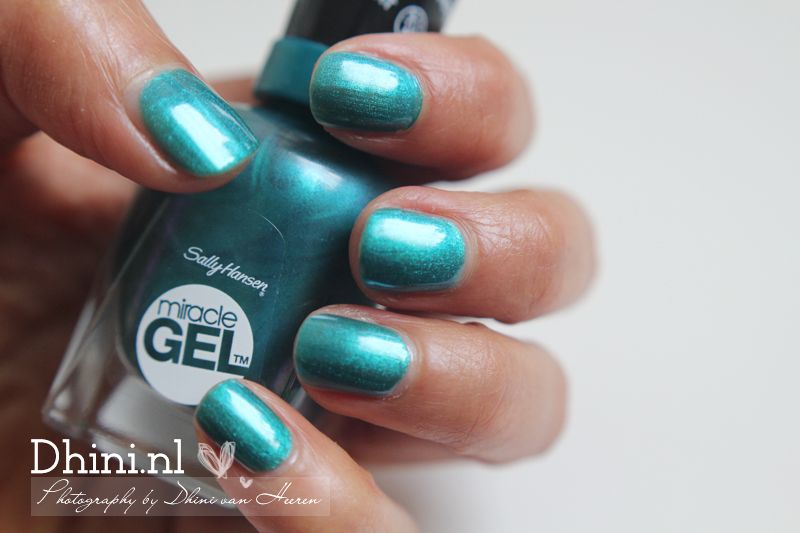 540 Combusteable in twee laagjes zien er nog transparant uit en streespjes heen en daar zichtbaar.

De kleuren zijn heel mooi en de nagellak blift goed zitten meer dan een week.
De Miracle Gel is verkrijgbaar in 47 nieuwe hippe kleuren. Woow…echt veel he!
Sally Hansen Miracle Gel is verkrijgbaar bij de drogist, parfumerie en online. Hij kost €11,99
Welke kleurtje vind je mooi?