Naast de nieuwe parfum Intimissimi en gebruikte beauty producten MAC lipstick, Kiko lipstick van mijn oude collega heb gekregen, ga ik vandaag nog gebruikte beauty product Sheido Kohl powder aan jullie laten zien.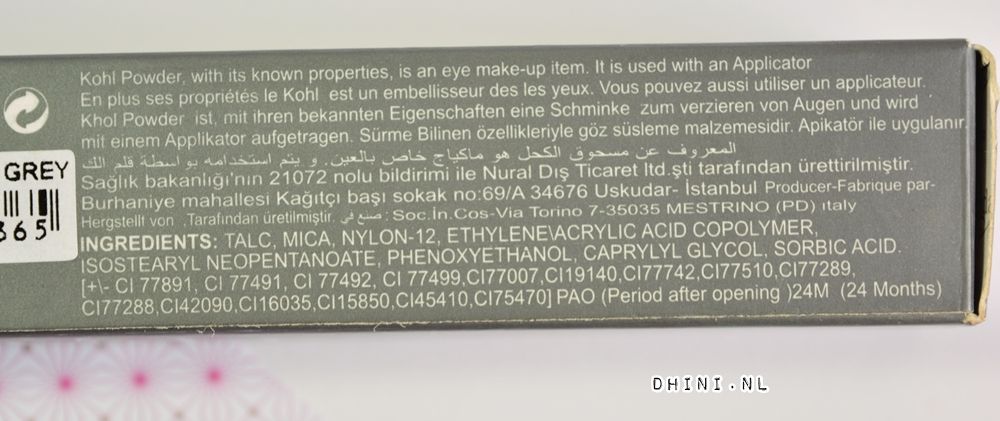 De verpakking vind ik erg mooi, alleen jammer dat hij van hard plastic is, ook de applicator. Het zou top zijn als de verpakking en de applicator van ijzer is. Mijn moeder had kohl powder net als dit ooit gehad maar dan van ijzer, vandaar dacht ik deze niet van plastic is. Erg jammer vind ik want de verpakking is wel erg leuk en mooi om op beautykast of tafel neer te zetten als accessoires. Omdat ik dit merk nog niet ken, ging ik even googlen en ik heb deze site gevonden met meer informatie over Sheida Kohl powder.
Deze powder is in dark grey en zit er een subtiele glitters in. Heel mooi. Het brengt de applicator een paar keer heen en weer voor mooie eyeliner. Je maag natuurlijk meerdere keren herhalen tot gewenste resultaat krijgen. Sheida Kohl bevat natuurlijke ingrediënten en zit in een anti-bacteriële verpakking. De pigmentatie ziet er prima uit. Volgens informatie op de site blijft de kohl 2 à 3 dagen zitten als je ogen niet schoongemaakt. Maar ik swatch hem op mijn hand en ik kan het makkelijk verwijderen en zonder water, op mijn ogen wordt het vervaagt. Als je je ogen niet wrijven, geloof ik wel de kohl 2 à 3 dagen blijven zitten. Ik laat het niet lang zitten want ik maak altijd mijn make-up schoon voordat naar bed gaan. Ik vind het niet prettig met make-up naar bed.

Ik vind de kohl powder mooi en fijn in gebruik, niet zwaar om hem mee te nemen dankzij plastic verpakking. Hij kost €14,95. Te bestellen op deze site als je hem wilt hebben. Dank je wel M voor dit mooie kohl powder.
Ken je dit merk en gebruik je ooit kohl powder of liever eyeliner potlood/cream?

Fijne dag en geniet ervan!
Dhini