Afgelopen jaren kreeg Ik meestal Sinterklaas cadeaus van myn lieve schoonmoeder! Ze zet meestal die cadeaus in onze auto (verassing he!)
En dit jaar samen wij bij myn lieve schoonouders die cadeaus geven en uitpakken en dus dit is voor mij de eerste keer sinterklaas cadeaus voor iemand anders kopen (meestal gewoon tussen myn lieve man en Ik). Die cadeau voor degene die Ik had getrokken met lootjes voor Sinterklaas :sint: . 2 weken geleden was nog niet bij V&D maar gelukkig de volgende week zag Ik en gelijk gekocht.
Vanavond dus gaan wij bij mijn lieve schoonouder met hele schoonfamilie Sinterklaas :sint: cadeaus uitpakken :gifts:
Hieronder heb Ik goed ingepakt 😉 met folder papier. De nieuwste producten van Blond amsterdan en een bordje

De cadezu heb ik in een zakje van myn lieve man die hij van zijn werk choco, pepernoten heb gekregen.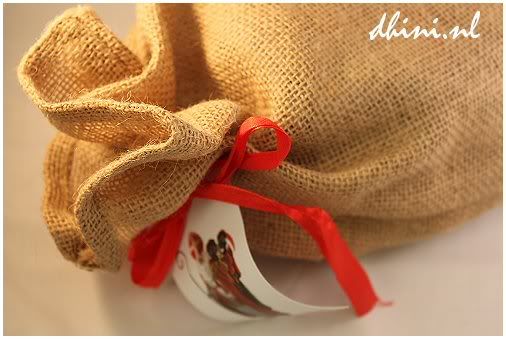 [note]Net heb Ik 4 mango`s bij de groente winkel opgehaald. Oeh…best zwaar zeg![/note]
Hebben jullie ook Sinterklaas cadeau :sint: samen uitpakken met je familie of met andere?
Wat heb Ik straks gekregen? zoals op papier of wordt andere cadeau krijg 😀 :gifts:
Hele fijne dag..! Liefs!