Jatuh (up) dan(and) bangun(down) dhini.nl en toch kan bereiken tot 6 jaar online.
Ik heb domain dhini.nl in 2005 van myn lieve man gekregen als valentijn-cadeau. Natuurlijk ben heel erg blij…Dank je wel myn lieve man :muah:

Voordat domain heb, gebruikte ik blog via yahoo (dh1not) maar best irritant met reclame als de site openen. En toen met HTML coderen. Vroeger heb niet regelmatig artikel/s gescreven. Ik deed als ik zin heb omdat zonder blogsystem gebruik dus als update moest ik elke keer miscrosoft FrontPage openen om de artikel/s te schrijve en dan CuteFTP openen om te uploaden. Dat was natuurlijk onhandig.
Nu schrijf ik soms 1 – 3 artikel/s per dag, want ik wil wat snel kwijt voordat vergeten 😀 Af en toe heb ik geen inspiraties of geen zin maar verder wil ik eigenlijk doorgaat met dhini.nl (maar dat belooft ik niet). De inhoud van dhini.nl is van alles wat zoals familie, persoonlijk, swatches, haul, review and nog veel meer…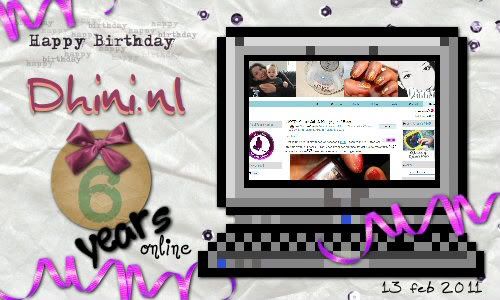 Ik wil ook my bezoekers bedanken voor jullie tijd om een reactie achter te laten en ook jullie support in slecht en goede tijden. Ik ben blij dat jullie dat doen, zonder my bezoekers is dhini.nl niet zoals nu.
Nogmaals bedankt myn lieve man, myn schoonfamilie, myn familie, my bezoekers, lieve Nederlanse bedrijven en International bedrijven…..love you all :blowkiss2:
Om te vieren zijn er enkele winacties voorbijkomen in komede dagen en dus hou my site dhini.nl in de gaten.
Hele fijne dag allemaal!