Heerlijk naar music of favourite luisteren tijdens je bezigheid. Ik ben gek op gadget en vandaag laat ik jullie zien mijn nieuw gadget "Nude Audio Move Super M bluetooth speaker Mint".

De doos alleen vind ik al leuk. Het soort wel een tasje. Heel leuk!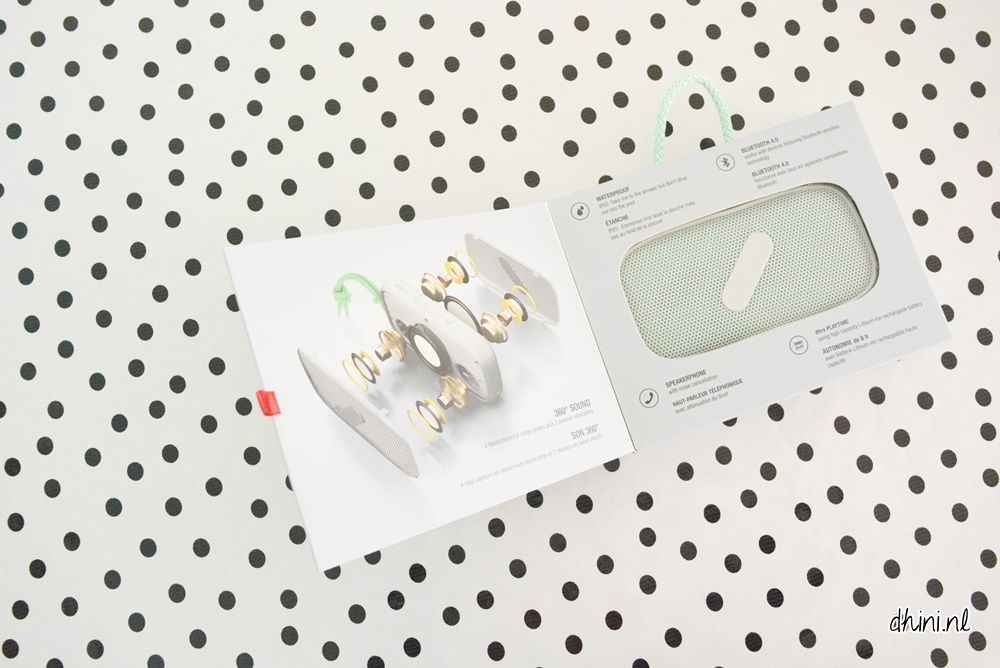 Als je de cover van de doos opende, zie je de plaatjes van de speaker zo komt het geluid aan beide kanten van de speaker en staat ook nog wat informaties.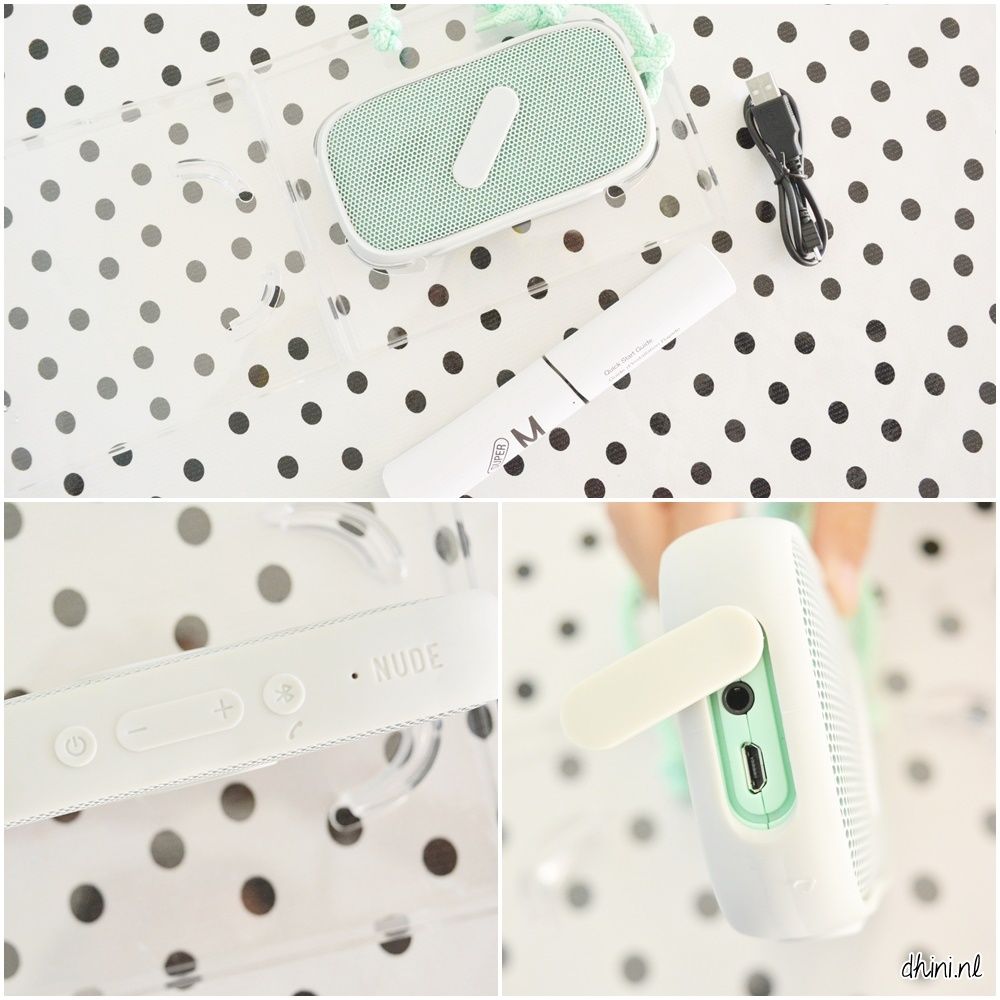 De bluetooth speaker zit in hard plasticglas. Het zit er toch luxe uit. En zitten er een basic handleiding een USB kabel mee geleverd zodat je de batterij vol kunt opladen. Ook een draagkoord meegeleverd zodat je kunt de speaker ophangen, bijvoorbeeld op de fiets, op de muur, kapstok of gewoon thuis. Er zit geen usb oplader bij dus als je telefoon oplader thuis heb, die kan je voor deze bluetooth gebruiken als de batterij onderweg op is.
Boven op de speaker vind je de knopjes waarmee je deze speaker kunt bedienen voor aan/uit, + en – voor volume en een knop om Bluetooth mee te activeren en resetten. En de zijkant van de speaker vind je een flapje met een gat voor USB en een gaat voor 3,5 mm AUX ingang om naar de muziek te luisteren op deze bluetooth speaker door middel van een kabel en dat als je de muziek apparaat geen bluetooth heeft. Dat is dus geen probleem!
De Nude Audio Move Super M Bluetooth speaker is van rubber gemaakt en de speaker zelf is van stevig gaas. Het werkt met bluetooth 4.0 en heeft een bereik van 10 tot 15 meter. De batterij is een Lithium Ion batterij die zorgt er voor tot wel 8 uur lang muziek kunnen afspelen. De bluetooth speaker geeft een bass geluid (85 Decibel bij 100 Hz). Wat nog leuk om te weten is dat de bluetooth speaker waterproof is en dit betekent dat de speaker in de badkamer gebruikt kan worden maar wel zorg dat niet onder de water in.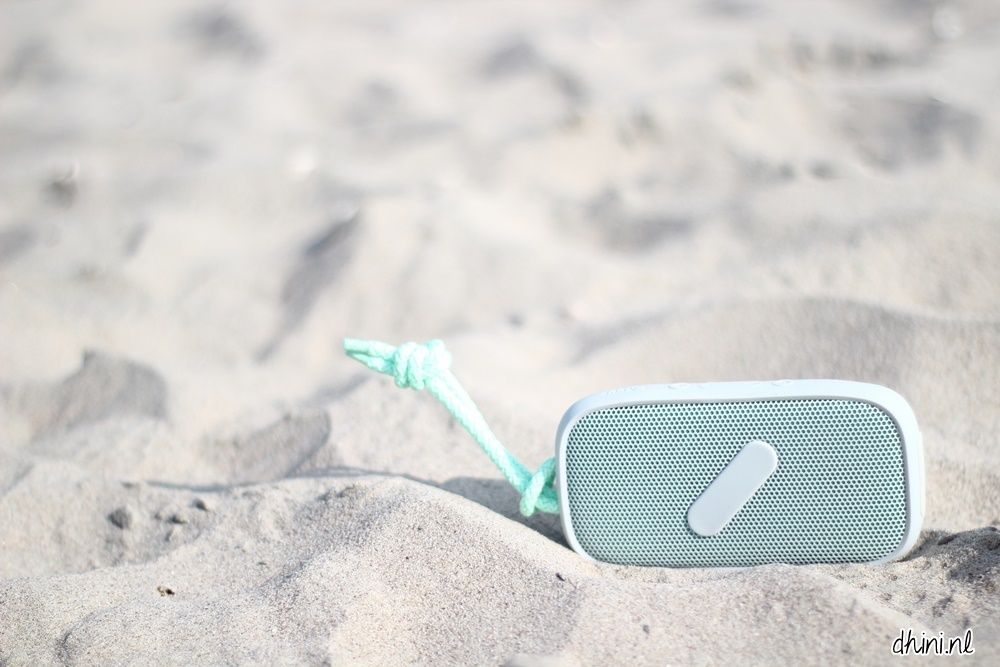 De meeste apparaten hebben tegenwoordig wel bluetooth. Mij smartphone kan zonder moeite verbinden met dit speaker. Het geluidje is heel goed en bass volume. De speaker is lekker compact en licht die je hem makkelijk overal meenemen. De Nude Audio Move Super M bluetooth speaker kost €99,99. Het is niet goedkoop gadget maar het geluid geweldig voor compact speaker. Zoek je toch nog steeds op andere gadget voor je smartphone van merken bijvoorbeeld Samsung S6, Apple en of heb je een geheugenkaartje nodig, vind je op GSMpunt.nl.

Fijne dag en geniet ervan!
Dhini

Dit artikel bevat product(en) die ik heb ontvangen van een merk of bedrijf. disclaimer